Budapest Travel Guide | Airport Transfer Budapest | Budapest Airport PRIVATE transport
BUDAPEST
(Approx. Hungarian pronunciation: "boo-dah-pesht") is the capital city of Hungary. With a unique, youthful atmosphere, world-class classical music scene as well as a pulsating nightlife increasingly appreciated among European youth, and last but not least, an exceptionally rich offer of natural thermal baths, Budapest is one of Europe's most delightful and enjoyable cities. Due to its scenic setting, and its architecture it is nicknamed "Paris of the East". In 1987 Budapest was added to the UNESCO World Heritage List for the cultural and architectural significance of the Banks of the Danube, the Buda Castle Quarter and Andrássy Avenue.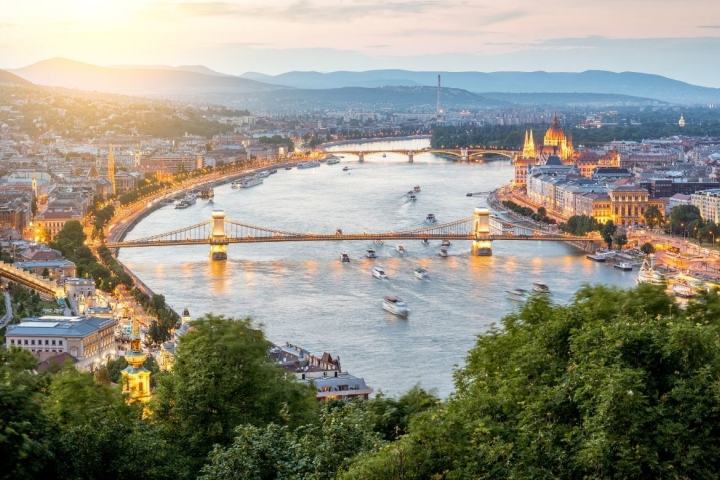 Districts and quarters
Although Budapest is administratively divided into 23 numbered districts (always written in Roman numerals) it is colloquially often divided into parts, roughly corresponding to the two major cities of Buda and Pest, of which it is comprised.
Note that listings of restaurants and similar places can be found in the following articles:
Buda - The area west from the Danube (Districts I-III, XI-XII, XXII), also including Óbuda in the north, the third, smaller town before the unification.
Castle Hill - District I of Buda, the oldest part of the city containing the Castle and some of Budapest's best-known attractions such as Fishermen's Bastion, the Labyrinth and Mathias Church.
Pest - The area east from the Danube (Districts IV-IX), traditionally associated with a more pulsating city atmosphere.
Of course, quarters often offer their own atmosphere due to their history and inhabitants. Roughly speaking, areas near to, especially inside of Nagykörút (Great Boulevard or Ringroad, served by Tram 6) are considered central, even if some of these are in less than perfect condition and not typically frequented by tourists. In Pest, Kiskörút (Small Boulevard) is traditionally considered as the border of the centre proper, including some highly touristic areas.
Informally, quarters are known under their own historical name which are often referred to by the locals. The names are often linked to members of the House of Habsburg or - in fringe areas - the names of villages or towns which later became part of Budapest. Particularly interesting quarters are
Belváros (Inner City), Lipótváros (Leopold Town) With the latter being north of the Inner City, they together form the V. district, the heart of Pest, including a number of major sights but also beautiful squares and cafés. Including the Parliament, a number of ministries and banking houses, Leopold Town is also a major political and industrial centre of the country. The name refers to the Habsburg Emperor Leopold I whose coronation to the King of Hungary in 1790 gave rise to the name of the then-new quarter.
Újlipótváros (New Leopold Town) The inner part of the XIII. district, just outside of the Great Boulevard north of Leopold Town with the marvellous Margaret Bridge at its corner, was built between the 1910s and 1930s. It is considered as one of the finest residential areas in Budapest with a relaxed, inviting atmosphere and a number of restaurants, cafés and small shops. It also comprises the Vígszínház (Commedy Theatre) and a few tiny off-mainstream cinemas. The quarter is traditionally home to a population with Jewish background as the activity of people such as Raoul Wallenberg, Giorgio Perlasca, and Carl Lutz was linked to this area (see history).
Terézváros (Theresa Town) VI. district. Among others, it contains Nyugati pu. (Western Railway Station), an architectural sight, and areas neighbouring districts V. and XIII. The then-developing quarter was named after a visit of Habsburg Empress and Queen Maria Theresa in 1777.
Erzsébetváros (Elisabeth Town) VII. District. While parts of it are not yet renovated, it contains the famous Synagogue in the Dohány street. The quarter was split off from Terézváros and asked for permission to be named after the wife of Franz-Josef I, popularly called Sissy, in 1882.
Understand
Travelers are quickly recognising the appeal of Budapest, with tourism accounting for approximately 2.7 million visitors per year. Consisting of two cities with different flavours, Buda on the west bank of the Danube River and Pest on the east bank, Budapest offers travellers a unique atmosphere influenced by Viennese and Parisian architecture. Hungarians are proud of what their beautiful capital has to offer and its contributions to European culture, especially in the field of music, and sciences. They also take some pride in their language which is unrelated to languages of the Indo-European family such as English, French or Russian. While e.g. Finnish is a distant relative to Hungarian, these two branches of the Uralic family are estimated to have diverged a few thousands years ago, and no communication between them is possible.
While Buda has been the capital of Hungary - or that of the Osman-occupied territory - for the better part of a millennium, it has become a grand cosmopolitan city during the country's fast industrialisation in the late nineteenth century. The population of 2.1 million in 1989 decreased formally due to suburbanization.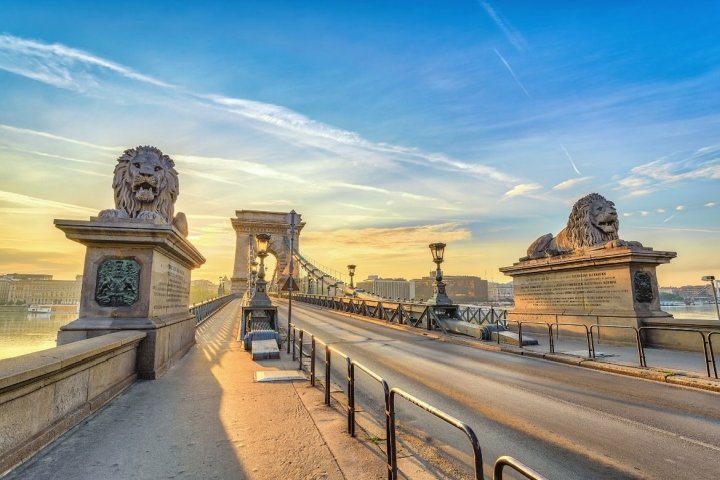 History
The first settlement on the territory of Budapest is accounted to Celtic tribes. During the first century AD, the Roman fortification on the territory of present-day Óbuda (now part of Budapest) gradually developed into the town of Aquincum which became the capital city of the province of Lower Pannonia in AD 106. In the beginning Acquincum was only a Roman military settlement and then it gradually turned into a civil settlement. It was the main center of the Pannonian Region, becoming the most important commercial point. Nowadays the area that was covered by Acquincum corresponds to the Óbuda district within Budapest. Acquincum is the main and the well conserved Roman archaeological site in Hungary. It was turned into a museum with inside and open-air sections. The Roman Ruins in Aquincum have been dated around the II and III century (a.d.). The archaeologists during the excavation works brought back to light a lot of objects and monuments. In the past the city had paved streets and lavish houses with fountains, courtyards and pavements in mosaic. At the north-west of the ruins is located the civil amphitheater in which are still visible the cells in which the lions were kept during the gladiators' fightings. The capacity of this structure was about 16.000 people. The Romans even founded a fortress known as Contra Aquincum on the other side of the river which is assumed to have developed into the later town of Pest. This was part of the Limes, marking the eastern border of the empire, and was gradually given up by Rome during the early fourth century, becoming part of the Hun empire for a few decades. (Modern historical research does not associate the Huns with Hungarians, albeit even the name of the latter expresses this once popular idea.)
Once the horse-riding Magyar (Hungarian) tribes arrived in the Carpathian Basin in 896 AD, Óbuda served as the seat of the Magyar high-chieftain (or prince) Árpád. After a century marked by frequent raids on Christian western Europe, (prince) Álmos realised that converting to Christianity is the key to survival in Europe. The Christian Kingdom of Hungary was founded by the crowning of his son, Szt. István (St. Stephan) on the 1st January 1001 (or possibly Christmas day of 1000). As visitors will quickly realise, St. Stephan became an omnipresent national symbol, as did the artefact known as Saint Stephen's Crown (the Holy Crown of Hungary) which was regarded as a legal entity de jure equivalent to the country itself during medieval times. It is still unclear whether the millennium-old crown used in this function for many centuries and shown in the Parliament today, was already used by St. Stephen.
In the following centuries Buda emerged as the most important royal seat. In 1241/42 the Mongol Empire conquered the territory along with large parts of Europe - this short but devastating conquest of the country is still remembered as Tatárjárás - the name reflecting the erroneous confusion of Mongols and Tatars at the time. Medieval Hungary reached its zenith under King Matthias (Matthias Corvinus), the vividly remembered renaissance ruler whose patronage of arts and sciences made Hungary, a notable power at the time, the first European country which adopted the renaissance from Italy. However, after residing in Buda for decades, he moved his seat to Vienna in 1485 for the last five years of his life after defeating the Habsburg Holy Roman Emperor Frederick III.
In 1541, Buda and Pest fell to the Ottoman Empire. The Habsburg Empire, centered in Austria, conquered the country on its way to becoming a major European power in 1686. Marks of these two cultures are still part of everyday life in Budapest.
The Turks, under their occupation, constructed many thermal baths and some of them are still in function nowadays (Rudas and Király). The citizens of Budapest customarily frequent these baths to this day.
After the Anti-Habsburg revolution in 1848–49 (defeated through the decisive help of the Russian Czar) the 1867 Compromise (Kiegyezés) with a weakened Vienna made Buda the capital of a near-autonomous Hungary, a large, multi-ethnic Kingdom comprising half of the newly created Dual Monarchy of Austria-Hungary. In this peculiar double-state the Monarch was emperor and king ,respectively, of these two rather autonomous realms. The following half century marked by peaceful development counts among the most successful times in the history of the country as well as its capital. With the 1873 unification of Buda, Pest, and Óbuda, the city of Budapest was officially created. The two parts of the city were already connected by the first permanent bridge across the Danube since 1849 when was inaugurated the magnificent Chain Bridge. It saw a leap in terms of industrialisation, urbanisation, and the development of a capitalistic society as well as population. It even aimed at rivalling with Vienna - the Millennium in 1896, marking a thousand year of Hungary, offered the perfect excuse for large-scale projects such as the Parliament, Vajdahunyad Castle, or the Grand Boulevard (Nagykörút) - Budapest transformed to a world city during these decades, enriched by Austrian, Jewish, Slovakian, Serbian, Croatian Roma and other cultural influence. This age is remembered as the 'Monarchia' (or as 'K. u. K.' - abbreviation for Imperial-Royal - in Austria, and other parts of the Empire) and associated with the rule of Franz Joseph I. (I. Ferenc József) who died in 1916 after 68 years on the throne.
Neither the Habsburg empire nor Hungary survived World War I in their previous form - leaving Budapest as the capital of a now formally independent Hungary which lost two thirds of its territories and most of its ethnicities, as well as a few million Hungarian speakers, to neighbouring countries. The city`s population reached one million around 1930. During the interwar years under the rule of regent Miklós Horthy, a former Admiral of the Austro-Hungarian fleet, Hungary became an ally of Germany. Near the end of World War II, nazi Germany occupied Hungary after it attempted to negotiate separate peace with the Allies, and eventually installed a bloody dictatorship putting the hitherto fairly unimportant nazi Nyilaskeresztes (Arrowcross) party in charge. While practically all of 400,000 Jews on the countryside were murdered by German nazis and their Hungarian nyilas sympathizers, roughly 60% of Budapest's Jewish community was saved during the Holocaust. People we keep in our memory for helping the local Jewish community include Raoul Wallenberg, the famous Swedish diplomat, who organised the distribution of Swedish passports by his Embassy to as many Jews as possible, and the Italian Giorgio Perlasca, who - pretending to be a Spanish diplomat - rescued many thousand Jews. Air raids and a terrible three-month siege towards the end of World War II resulted in the death of over 38,000 civilians and destruction of much of the once lively city.
After the war, Budapest slowly recovered and became a showcase for the more pragmatic policies of Hungary's hard-line Communist government under the dictatorial rule of Mátyás Rákosi. The city was, however, also the main site of the 1956 uprising which was successful in installing a reform-oriented (albeit communist) government of Imre Nagy. This was swept away before long, as the Soviet leader Khrushchev felt Hungary slipping from Moscow's rule. The Soviets installed János Kádár as the leader of the communist state who, after over thirty years of controversial rule, was elected out of leadership 1988 by the central committee due to health issues. Kádár died of 1989.
One of the most dramatic historical events of the country was the October 23, 1956 uprising. This uprising lasted until November 11 of the same year. During the revolution, more than 2000 Hungarians lost their lives. A monument erected in 2006 commemorates this tragic event. The monument is in Iron and wood, and is found at the edge of City park. It symbolizes the Hungarian forces that eradicated the communist dictatorship.
Since the peaceful 1989 'system change' (Rendszerváltás) which was achieved as a compromise between reformist party forces and the opposition (notably including a younger self of the current PM, Viktor Orbán), Budapest transformed in appearance and atmosphere, a process further accelerated by the country's long-awaited joining to the European Union in 2004.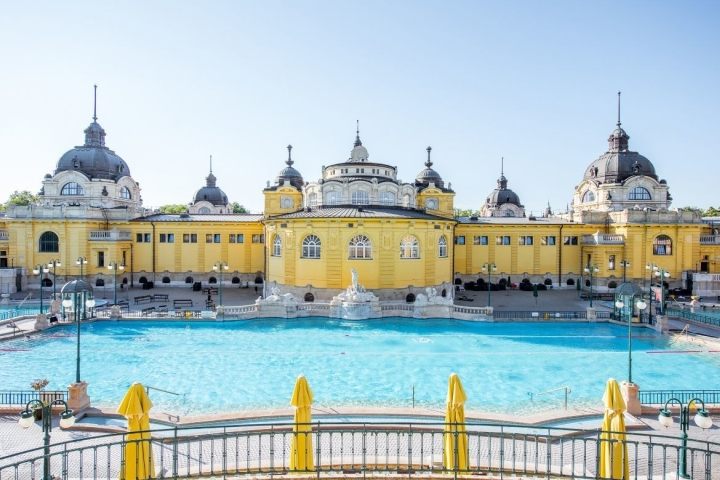 Quality of life
For those with a reasonable budget, Budapest offers a rather high quality of life. The offered range in terms of culture, cuisine, and general 'vibe' is comparable to other major European cities (see. dedicated sections), while prices are lower, influenced by salaries of the locals.
Local salaries are significantly lower than those in western Europe (a recent university graduate may earn e.g. 150-300 thousand HUF a month after taxes), so that living standard of the local population is somewhat lower, especially for those employed in lower paid jobs (official minimal salary is around 60 thousand HUF a month after taxes, as of 2012). A more serious issue is unemployment, especially in the face of the recent economic problems. This is also connected to the rise in the number of homeless people seen in metro stations doorways in both Buda and Pest in recent years. While this does trouble locals who often grew up without seeing explicit homelessness (before '89), this issue is still minor compared to other major cities and usually does not present a safety risk to travellers.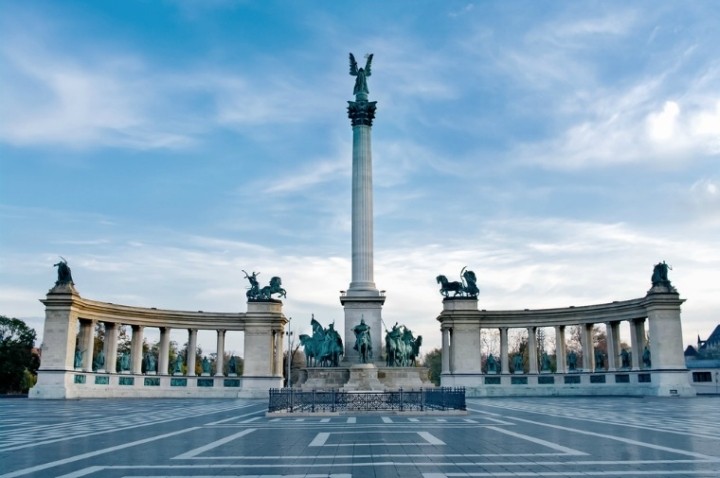 Official Tourism Information
Tourism Office of Budapest You can get some very good and free brochures. amongst it: map of Budapest, a map of hungary with all the youth hostels and prices, a very complete brochure about the northern part of Hungary (available in many languages).
Get in
By plane
Budapest Franz Liszt International Airport IATA: BUD), Budapest Liszt Ferenc Nemzetközi Repülőtér (pronounced "list-ferents"), formerly (and colloquially still) referred to as Ferihegy; is the country's largest airport, located about 16 km (10 miles) southeast of the city centre.
Outside Budapest, there are alternative international airports in Debrecen, Sármellék, Győr-Pér and Pécs-Pogány.
Airport Terminals
The airport has two terminals, 2A and 2B, being within a short walking distance from each other. The number 2 appearing in their names is due to the the former (originally opened in the 1950, reopened 2005) Terminal 1 closed recently.
Terminal 2 (opened in 1985) is divided into Terminal 2A (gates 20-30), serving Schengen Area destinations, and Terminal 2B (gates 11-19) serving non-Schengen Area destinations.
Duty free stores are operated by Travel Value. Customs authorities in German airports may not allow you to bring duty-free items purchased at the airport in Budapest through Germany. In Terminal 2, Hugo Boss and Swarowski are the only dedicated brand shops. The alcohol-tobacco-sweets assortment shop has a choice of local wines, mainly by Gundel. You can find Caffè Ritazza eateries on Terminal 2A, both in the pre-check-in area and the in the boarding area. Terminal 2B pre-boarding area offers half a dozen cafés.
Connections
Hungarian low cost airline Wizz Air operates flights between Budapest and more than twenty European cities. Currently, there are no direct flight from the US to Budapest, American Airlines cancelled their NYC-Budapest flight as of Feb. 2012. Many low cost airlines also operate service to/from Budapest. London Heathrow is connected by a number of flights by British Airways (codeshared with American Airlines), while discount airlines fly to London Luton, Gatwick and Stansted (2012). Paris is connected by flights from Air France (Roissy-Charles-de-Gaulle), and various low-cost companies (EasyJet from Orly, Ryanair and Wizz from Beauvais)
As of 2012, the following low cost airlines operate to and from Budapest:
Aer Lingus (from Ireland) - Terminal 2B;
EasyJet (from France, Germany, Great Britain and Switzerland);
Germanwings (from Germany);
Jet2 (from Great Britain);
Norwegian Air Shuttle (from Denmark, Norway and Sweden);
Ryanair (from Belgium, Denmark, Finland, France, Great Britain, Greece, Germany, Ireland, Italy, Netherlands, Norway, Poland, Spain, and Sweden);
transavia.com (from the Netherlands);
WizzAir (from Azerbaijan, Belgium, Bulgaria, Finland, France, Germany, Great Britain, Greece, Israel, Italy, Netherlands, Norway, Malta, Poland, Romania, Russia, Spain, Sweden, Turkey and United Arab Emirates).
Airport transfer
There is a train station called Ferihegy next to former Terminal 1, from where suburban trains (called 'személy') run twice an hour to Budapest-Nyugati station in the city centre, taking 25 minutes. Although the trains are suburban trains, they are operated by MÁV and not included in the HÉV network. (Dedicated train tickets can be purchased from cashiers or vending machines next to the cashiers in the pedestrian underpass in Nyugati - press the button 'Ferihegy'; normally the machine can give change. At Ferihegy station there is a modern ticket vending machine at the platform towards Budapest. A single full-fare train ticket costs 370 HUF for this travel, but local public transport travelcards, called Budapest pass or Budapest travel card are also valid. These can be purchased at the post office on the mezzanine level of the airport. If entering the train without ticket, you will pay an additional fine of approx. 2500 HUF , unless no cashier or vending machine was available at the station.)
Public transport between Ferihegy train station and Terminals 2A/2B is provided by the local bus 200E, running every 8-15 minutes, and travel time approx 10 min. The bus stop towards the Airport is situated directly next to the train station, but you have to pass a pedestrian bridge with elevators not always working. (Within the bus, this stop is called "Ferihegy vasútállomás" - i.e. train station - in case you want to get off there.) Alternatively you can pre-order a taxi by phone to wait in the bus-stop, to get to the Airport faster or at night. Single bus tickets are available in airport terminals for HUF 350 at the newspaper vendors, or can be purchased from the driver for HUF 450.
The same bus line 200E runs somewhat further into the city, ending at the end station of metro M3 'Kőbánya-Kispest', a small local transport hub. Note that for transferring there to the metro, another 350 HUF-ticket is required. There exists a transfer ticket (átszállójegy) for 530 HUF which may be used all the way from the airport to the city center, but for unknown reasons these tickets are not sold in either the machines nor the kiosks at the airport - so if you want to save money and your journey starts and ends in Budapest, make sure to buy an extra transfer ticket in central Budapest before your departure to use for the return trip. The trip from the airport to Deák Ferenc tér metro station takes about 45 to 60 minutes. During nighttime (11 pm to 4 am) the 900 Nightbus departs Terminal 2 every 30 to 60 minutes, providing connectivity with the 950 Nightbus stop at Bajcsy-Zsilinszky út. The 950 bus travels to Rákospalota via the City Center (Deák Ferenc tér) and Nyugati railway station.
In addition to személy suburban trains, Ferihegy also has long-distance trains (called'InterCity' or 'gyors') to a number of other cities such as Szeged, Kecskemét, Debrecen´and Miskolc. (Warning: On the outbound platform there are some Intercity trains with Budapest-Keleti as destination - do not take this to get to Budapest as this is a ring service starting at Budapest-Nyugati and going through Ferihegy and eastern Hungary before terminating at Budapest-Keleti - taking some 5 h 45 min and costing 6660 HUF). Long-distance trains to Budapest require a seat reservation which costs a couple of hundred HUF so unless you're in a hurry, stick to the trains labelled 'személy'
Private transfer. Online reservation: ATB Airport Transfer Budapest. Specific Airport Transfer Service to meet you inside or outside, as you exit the secure area, with a sign with your name on it. If you have a particular desire to be met by a driver on arrival, or want a specific kind of car, or have special individual needs like a baby seat or wheelchair, you may want to book in advance with a specific airport transfer service or driver.
Another recommended transport companies:
Budapest Airport Transfer BAT Airport transfer budapest, taxi, minivan, minibus services.
TAXI Budapest Airport - airport transfer, taxi, minivan, minibus services..

Be very wary of the so called "Taxi Cowboys" who solicit passengers, they will quote you a reasonable fare then demand much higher payment when you arrive to your destination. Stick with the Airport Shuttle, Reserved private transfer, Public transport or the Taxi Stand in front of the Arrivals Hall.
The Chain Bridge and a view of Pest
Árpád Bridge (Árpád híd), A modern bridge linking to Northern Margaret Island. The longest bridge in Budapest at 973 meters. It was inaugurated in 1950 where already the Romans erected a bridge to connect Acquincum with another settlement on the Pest side.
Margaret Bridge (Margit híd), Easily identified thanks to its distinctive shape: it makes an approximately 35 degree turn half way across, at the southern tip of Margaret Island. Trams 4 and 6 cross the Danube here. This bridge was built in 1901 and then destroyed during the war by an explosion. It was rebuilt in 1948. It is located at the north of the city center.
Chain Bridge (Széchenyi lánchíd), Completed in 1849, the oldest, arguably most beautiful and certainly the most photographed of Budapest's bridges, floodlit at night. It was the first permanent bridge across the Danube. At the time of its construction it was the second-largest suspension bridge throughout the world. Four stone lions taken their place at the edge of the bridge in 1852. They fortunately survived from the air raids of the World War II.
Elisabeth Bridge (Erzsébet híd), Completed in 1903. Its original chain structure was destroyed in World War II, and was eventually substituted by a modern cable bridge opened in 1964. This bridge in liberty style was dedicated to the murdered Queen in 1898. It is the third newest bridge of the city.
Liberty Bridge (Szabadság híd), Elegant but simple, opened in 1896; it connects the Gellért Baths (Gellért fürdő) in Buda with the Great Market Hall (Nagyvásárcsarnok) in Pest. Recently renovated. This bridge was rebuilt in Art nouveau style in the occasion of the Hungarian millenary festivities of 1989.
Petőfi Bridge (Petőfi híd), For a long time the southernmost bridge, it links the inner ring road (Nagykörút) of Pest with Buda. It was built during the 30s, destroyed by an explosion in the World War II and then rebuilt in 1952.
Lágymányosi Bridge (Lágymányosi híd), The newest bridge in Budapest, with modern architecture and a spectacular lighting system where mirrors reflect the beam of the upward facing floodlights. Built very next to a railway bridge on its southern side. It is now called Rákóczi Bridge, it was built between 1992 and 1995, initially destined to smoothen the augmented traffic flow during the 1996 expo that finally never took place in Budapest. It is the second newest bridge of Budapest as of 2013.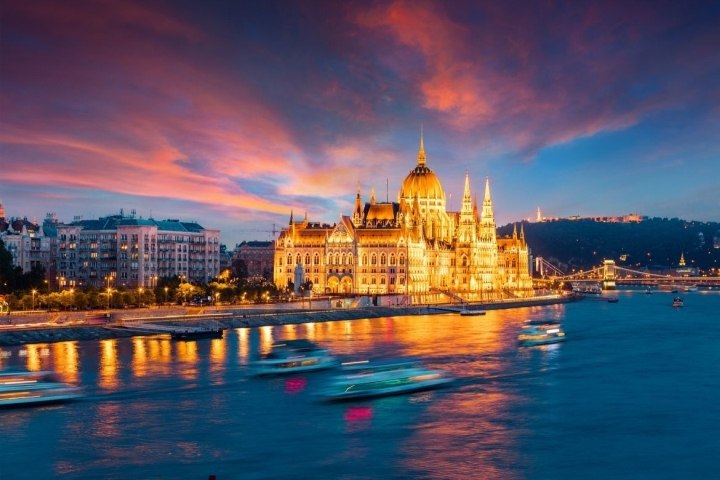 Many of Budapest's highlights are easy to approach walking, and in the center you find more pedestrian zones from year to year. Car drivers tend to respect pedestrians and often give advantage on a cross-walk even if there is no traffic light. Due to the lack of bike lanes, cyclists have to weave around pedestrian traffic; be prepared. Don't wear high-heeled shoes in the downtown as there are lots of stone pavements, especially in the Castle Hill.
Public transport
While you'll find several points of interest within walking distance, Budapest is a sizeable city, so unless you drive your own car (or bicycle), you will inevitably use some form of public transportation. The good news is that the city is well covered by a network consisting of three metro lines, blue buses, red trolley-buses, and yellow trams - and the whole system is fairly easy to understand. On the other hand, schedules are not quite as reliable as in, say, Vienna, vehicles are not always the cleanest, and tickets have become increasingly expensive. It's worth investing into a public transportation map at any BKV ticket sales desk. You can also find detailed public transport maps in some tram stops, especially along the 4-6 tram lines, and in the metro stations. Vehicles run from around 5AM to 11.30PM (or, on Christmas Eve, to 4.00PM). However, tram line 6 runs all night and, additionally, an extensive night bus network is available.
If you are a short term visitor, you may find the following lines particularly useful:
Metro 1, 2, 3 connect the suburbs with the biggest transport hubs, numerous touristic highlights and central hotels.
Tram 2 runs along the river Danube on Pest side, Tram 19 runs on the Buda side. They offer a ride with great view of the opposite side.
Tram 4, 6 follow Nagykörút (Grand Boulevard) offering (air conditioned) service up to every 3 minutes at peak times as well as throughout the night. They cross over to Buda on Margaret Bridge (Margit híd) - providing a majestic view - in the north, and on Petőfi Bridge in the south, after which the two lines diverge for their last two stops in south-Buda.
Bus 7, 7E, and 173, 173E connect Keleti railway station with the city center and many points of interest in Buda and Pest.
Bus 16/16A, 116 take you to Buda Castle from Széll Kálmán tér (former Moszkva tér). Bus 16 starts from Deák Ferenc Tér, the metro line hub.
Bus 105 connects Hősök tere (Hero's Square) to Deák Ferenc Tér through Andrássy boulevard, before it crosses the Chain Bridge to Buda and passes by Déli Pályaudvar (Southern railway station).
Bus 200E connects the airport with the Metro 3 terminus Köbánya-Kispest.
Boat services have gone into operation mid 2012. See ticket information on the BKV website.
Night travel services are provided by the Tram 6 as well as a number of night buses lines (s. below)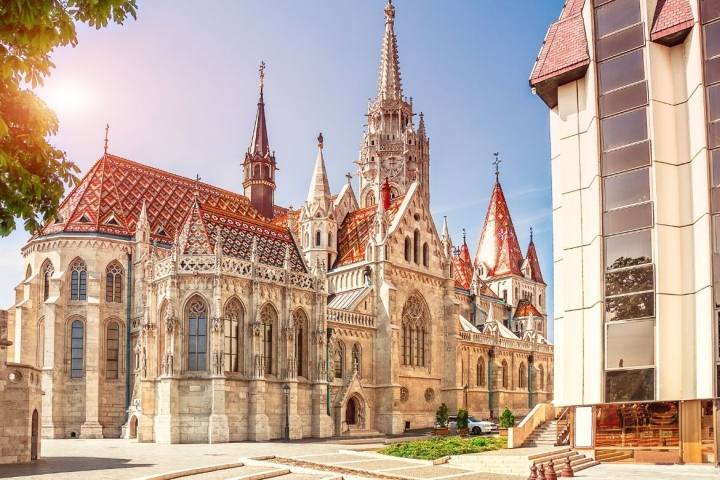 Sightseeing
The Royal Palace (Királyi palota). The most popular attraction on the hill. The first known buildings here where the Royal Palace stands today, were built by Charles Robert's eldest son, Stephan Duke of Anjou (1308-1342). It was later remodeled, but the reign of King Matthias brought about the golden age of Buda (1458-1490). Legend has it that when a Turkish ambassador came to Buda, he saw all the wealth and grandeur, forgot his greeting speech and all he could say was "The emperor sends his respects." After several remodelings, the unique building we see today is the recreation of Alajos Hauszmann and Miklós Ybl's1896 millennial designs. During its history the Royal Palace was destroyed and rebuilt at least 6 times. It hosted rulings but also invaders such as the Turks. Today the Palace is converted into some museums. It hosts the National Gallery.
National Gallery (Nemzeti Galéria). Inside the Royal Palace wings B, C and D houses an astounding collection of paintings.
The Fisherman's Bastion and lookout terrace (Halászbástya). For impressive views across the Danube to Pest. This neo-Gothic construction was built in 1905 by the architect Frigyes Schulek. It is composed by seven towers that are symbolizing the seven magyar clans' leaders that came in the Carpathian Basin at the end of the IX century.
Matthias Church (Mátyás templom, aka Church of Our Lady). Dominant neogothic church crowning Budapest's cityscape - nowadays is under reconstruction. The church praises a wonderful and unusual roof made of coloured shingles and elegant pinnacles. The interior worth a visit because of the frescoes and the artistic glass walls.
The courtyard got its name from the four stone lions that guard its gate. The two formidable lions at the gate try to deter one from entering, while the two on the inside roar furiously at those who dare walk past the gates. They where created by sculptor János Fadrusz in 1902. As we walk past the gate lighter stripes in the grey cube veneer show the excavated, the re-buried remains of the medieval palace walls. The 4300 m² courtyard is bordered by the building complex containing the Hungarian National Museum, the Budapest Museum of History and the National Széchenyi Library.
The Hunyadi Garden was a market place during the reign of Sigismund of Luxemburg. The group of bronze statues known as the Mátyás Fountain is the work of Alajos Stróbl from 1904. The work features Matthias Corvinus in the company of his henchman, his hunter, his Italian chronicler and his hunting dogs. On the left side is Szép Ilonka, a young woman from a humble background, who knowing nothing about Matthias's status falls in love with the king during a hunt. The busy fountain is a popular rest stop for tourists. This is Budapest's answer to the Trevi Fountain in Rome: visitors wishing to return to the city toss shiny coins into the fountain, of which thousands shimmer under the water.
One of the most representative areas of the Buda Castle, the Savoyai Terrace boasts the best view of the city. Standing on this spacious square we can see the graceful Danube dividing the two sides of the city, the limestone walls of the Parliament, the Gellért Hill, our capital's bridges, the Monument of Liberty, and on a clear day you can see the sites of Pest. The Terrace is in front of the Hungarian National Museum and on it you will find the neo-baroque bronze statue of Austrian Prince Eugene of Savoy military strategist made by the sculptor József Róna which has been there since the beginning of the 1900s. Eugene of Savoy is an important figure in Hungarian History because he was the general who irrevocably freed Hungary from the Turkish occupation.
Other museums on the Castle Hill:
The Historical Museum of Budapest. Exhibition of medieval Budapest and history of the Royal Palace.
The Music Museum. Includes a collection of musical instruments and the Bartok archive.
The Military Museum. Uniforms, weapons, maps and other Hungary-related military objects from 11th century until nowadays.
Marzipan Museum.
Pharmacy Museum. Collection of pharmaceutical objects from the Renaissance and Baroque eras.
Museum of Medieval Judaism. Presents the medieval Jewish objects of Buda.
The Danube Bridges, especially the Chain Bridge (Széchenyi Lánchíd) are really attractive and make it worthy to promenade along the river bank. Lánchíd (pronounced "laance heed") means chain bridge and the suspension structure of the bridge is made of chains whose links are huge dog-bone shaped metal bars linked by pins at their ends.
You can have a superb glimpse over the bridges from the Citadella on the top of Buda's Gellert Hill (Gellérthegy).
Riding a boat is ideal as you can enjoy both riverbanks at the same time. For romantic views of the city, go at night.
Margaret Island (Margitsziget) and its large parks are a very pleasant place to relax and wander. Perfect for a sunny afternoon. The island can be reach by both side (Buda and Pest) by the Margaret Bridge that has a curious shape because it is connecting with the island with a 30° angle.
The Parliament Building
Downtown (Belváros) of Pest is the administrative and business centre of Budapest and the whole of Hungary. The main sights here are:
The Parliament Building (Országház). A neogothic jewel, beautifully situated overlooking the Danube. It is very much worth going inside, but you can only do that during guided tours, which are FREE for inhabitants of European Union and 3500 HUF for others (ignore those trying to pick you up outside the Parliament). Tickets for guided tours can be obtained each day from 8AM. It is recommended to do it in advance because the tickets can be sold out quickly in the morning. You will have to go in front of the Parliament and queue at the ticket line. Again, ignore those that ask you if you want a guided tour. Just pick up your ticket inside and come back at the hour on the ticket. Guided tours in English are held each day at 10, 12 and 14. There are no tours during Parliamentary sessions (which are normally on Mondays and Tuesdays, sometimes on Wednesdays too). The Parliament is the biggest building in Hungary with its 268 meters . During your guided visit you will see the crown of Saint Stephen that is kept inside the gorgeous dome room.
St. Stephen's Basilica (Szent István Bazilika). The main church of Budapest is an important example of neoclassical architecture, recently renovated. The mummified right hand of Hungary first king, St Stephen is kept in the chapel. The 96 meter high dome can be seen from anywhere in the city and inside is decorated with mosaics. It is possible to climb over the dome and have a marvellous view of the cityscape.
Great Synagogue and the Jewish Museum (Dohány utcai Zsinagóga) Budapest was home to one of the largest Jewish community in Europe before the war. The Dohány street Synagogue, opened 1859, is the largest and certainly among the most beautiful ones in Europe, recently restored to its former grandeur. Next to the Synagogue is a small but impressive museum. In the rear of the Synagogue is a memorial for victims of the Shoah. A block away you'll find a smaller, but nearly identical synagogue built long before the Great Synagogue. The plaque in front explains that this was used as an assembly ground for those persecuted during the Holocaust before they were deported. It has not been renovated, and you can see through the boards on the outside how decrepit it still is - a chilling sight.
Jewish Quarter and Jewish Heritage Walking Tours in Budapest
The old Jewish Quarter of Budapest is the neighborhood bordered by Károly Boulevard, Erzsébet Boulevard, Király Street and Rákóczi Road. Several guided and non-guided tours are available for exploring this historic area of Budapest.
The main sites include:
Wallenberg Park
The Tree of Life
The Temple of Heroes
Rumbach Synagogue
Carl Lutz Memorial
Kazinczy Street Synagogue
The memorial honors the memory of the victims who were shot into the icy Danube by the Arrow Cross army. The 60 pairs of cast iron shoes faithfully represent the attire of that age. There is a 40 meters long, 70 centimeter tall stone pew behind the shoes attached to the stone of the bank edge. This particular monument was made by Gyula Pauer in 2006 and it is placed just under the Parliament building, on the Danube bank.
The historical building of the Faculty of Humanities of Eötvös Loránd University Eötvös Loránd University (Faculty of Humanities) is on Múzeum körút, opposite Hotel Astoria, and between the National Museum and a modern office block. It was founded in 1635 by Péter Pázmány, Cardinal Archbishop of Esztergom. The university is one of Hungary's most widely recognized institutions of higher education. The campus of the Faculty of Humanities is situated among historic walls, and is attended by nearly 8,000 students and a vibrant international student community from all over the world. The former library and study of Loránd Eötvös, the famous Hungarian physicist and eponymous founder the university, had his library and study in Building "D", but several other hidden treasures can be found at the Faculty. It is worth dropping by for a short visit. Visitors can rest in the lush Trefort Garden or have a refreshment in the popular Bölcsész Terasz, an open-air cultural garden that has musical performances as well as food.
Museums in at the city centre:
Museum of Ethnography
National Museum
Museum of Applied Arts
Natural History Museum
Ludwig Museum of Modern Art
Holocaust Memorial Centre
Museum of Transport.
Jewish Museum
Bible Museum
The Andrássy út boulevard in Pest stretches from Downtown (Belváros) to the City Park (Városliget). It is a 2.5 km long tree-lined avenue. It is listed on UNESCO World Heritage List and has some important sights along it, including:
The State Opera House This is one of the most beautiful opera houses in the world. It was built in Renaissance style and it is also praised for its acoustic, one of the three best in Europe. The main staircase was an important element of the building in the 19th century for ladies to show off their new gowns. It was commissioned by the Austro-Hungarian Emperor, Franz Joseph, to the architect Miklós Ybl.
The House of Terror (Terror Háza). Housed in the secret police headquarters of the communist era, this museum objectively documents the terror of the Nazi and Communist eras. Visiting is hard work, but essential for anyone wishing to understand Hungary's recent past.
The Hopp Museum of East Asian Art. Collection of 20,000 pieces from China, Japan, India, Nepal, Tibet and Mongolia. Nearby is another similar collection, namely Gyorgy Museum.
Ernst Museum. Contemporary Hungarian art.
The Central Market Hall - this market is one of the most visited tourist attractions. It is placed in the city center just at the end of Váci Utca. It is the largest and oldest covered market of the city. This is the right place to buy an hungarian souvenir or to eat traditional food.
The City Park (Városliget) is at the far end is probably the most pleasant of Pest's districts and features several interesting if low-key attractions which are often overlooked:

Heroes' square (Hősök tere) - with the Millennium Monument.
Museum of Fine Arts (Szépművészeti Múzeum) has an incredible range of European artwork from Greek and Roman times to the present. Especially valuable is its collection of Spanish Baroque painting.
Zelnik Istvan Southeast Asian Goldmuseum (Aranymúzeum) has the leading collection in Europe of southeast asian gold artifacts from the 1st millenia BC
Vajdahunyad Vára is a castle on a little island on a lake built for the 1898 World Fair. In the winter, the lake is turned into the city's biggest ice rink. Nowadays it houses an agricultural museum.
Olof palme ház is an elegant building in North italian renaissance style was erected in 1884 by the architect Pfaff Ferenc. The central wall of the building is finely decorated with some portraits of the most important italian renaissance artists: Michelangelo, Raffaello and Leonardo da Vinci.

On Buda side there are:
Aquincum was a city in the Roman times, its remains are turned into a great open-air museum. It's situated in the Óbuda district of northern . There are some ruins of thermal baths, made by stones and decorated with mosaics and paintings. Visiting these places was social events for Romans. Don't miss the Aquincum museum in which it is possible to admire many finds, paintings, reconstruction of houses and a reproduction of the hydraulic system of the time. Aquincum is the biggest and the most important roman ruin in Hungary.
The Gellért hill cave - The hill hosts a huge cave network, inside a cave is located a rock Church in which the monks of the Pauline Order are still celebrating. The plans of the Church were made by the Hungarian architect and professor Kálman Lux taking on example a similar rock construction located in Lourdes (France). In front of the entrance, on a panoramic terrace, is placed an equestrian statue of Saint Stephen.
Gül Baba Türbéje is the shrine where Gül Baba (literally Rose Father, from whom the Rózsadomb (Rose Hill) was named) lies.Offers a nice view and the little street which leads down the hill from there contains more houses that won the "House of the Year" award.
Kassák Museum at the Zichy Castle shows works of the modern Hungarian artists as well as modern Hungarian art.
Kiscelli Museum - The Budapest Picture Gallery.
Memento Park - The open-air museum is located in South. Driving takes 20 minutes, taking public transport 50 minutes to reach the spot. Main part of Memento Park is the typically Central European, yet universally unique collection of former public statues, which used to be stationed in the city's public domains in accordance with the guidelines and the requests of the Socialist culture-politics and ideological system. In addition there is an exhibition of the 1956 revolution and 1989-90 political changes, a film showing about the political secret service, an old Trabant car to get in, and a phone-box where visitors can "call" former party leaders.
Victor Vasarely Museum shows many works of the famous Hungarian-born post-modern painter Vásárhelyi Győző (1908-1997).
Music related Museums: Music lovers, beware that all four museums are closed in August.
Kodály Museum.
Liszt Museum. Home of Ferenc Liszt, most famous Hungarian composer. Collection of his personal objects and instruments can be visited.
Bartók's House.
The Music Museum. Includes a collection of musical instruments and the Bartok archive.
Additional Museums:
Fashion Museum.
MEO Budapest's art fair.
House of the Future

There are several travel agencies, tour operators offering city tours or walking tours, if you don't have much time, you can use one of them and you can visit the main sights within 3 - 4 hours.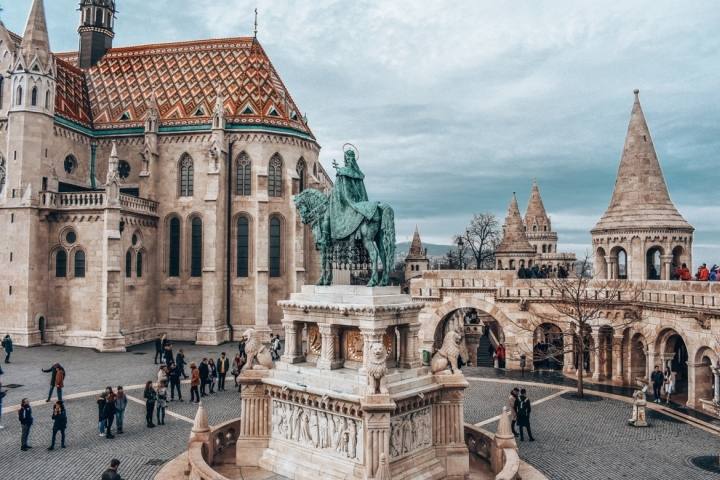 Do
The simplest (and perhaps best) of all: get a map, circle the things you want to see, divide up your time and stroll around in the city. Spend time in charming cafés or restaurants (preferably not right at the main tourist sights), look at the market stands, walk on a bridge in the evening. The lively atmosphere of this jewel of a city both by day and by night cannot be experienced via guided tours, locked into a tourist bus/boat. Locals are usually happy to help, also to tell you what they think is best to see - and what is better to stay away from, or for a little chat just to keep up their English (or German). Don't hesitate to ask questions!
Do it on a bike! (Rents are around 1800 HUF for half a day.) On a bike, you can ride out of the city, too. Szentendre is a 2 hours ride from the center and you get to see nice places, much of the way is at the Danube. If you prefer more organised ways, a guided bike tour gets you some exercise and introduces you to the local geography. For example, staff at Buda Bike [underground garage at the plaza in front of St. Stephan's Basilica] are very friendly. They also rent bikes.
Walk in the City park (Városliget) with your children. Walk around the lake and feed the ducks. See the statue of Anonymus at the Vajdahunyad Castle, a fairy-tale-like building. Széchenyi Spa, right next to the lake, is also enjoyable for kids (see also the Baths section).
In the winter, the same lake is transformed into the large ice-skating ring with an astonishing view during winter. It is a popular place for kids, teens and young tweens.
The nearby Circus (Fövárosi Nagycirkusz - Great Circus of the Capital) offers performances with international artists.
Next to it, the Budapest Zoo - one of the oldest in the world - offers more than 800 animals to be seen in a historic atmosphere.
A few steps away, the Amusement park (Vidámpark) offers a great day for kids or the young-at heart.
Buda Hill Labyrinth. The Labyrinths are accessible by two points on the Buda hills. The caves were formed from hot water springs and then during WW2, they were linked with some of the cellars on the hill to create an air raid shelter for up to 10,000 people and a military hospital. The labyrinth is now a popular tourist attraction - This attraction is now closed.
Experience an opera at Budapest's beautiful State Opera House or a performance of forklore or classical music at any of Budapest's many concert halls (s. details under Performing arts).
Festivals
Budapest offers a multitude of fairs and festivals. A few of them are
March
Budapest Spring Festival A dazzling variety of cultural events mainly revolving around classical music and performing arts - including folklore.
August
Jewish Summer Festival Another array of cultural and music events, with a Jewish touch.
Sziget Festival on Óbudai Sziget (Óbuda Island) An institution attracting rock fans, world music hippies and the usual festival crowd every year in august. It has become one of the best-known festivals in Europe, offering a multitude of cultural, culinary and musical events. Day tickets cost €45 and festival passes, including camping privileges cost €200 if purchased before a certain date (in april or may) and €230 thereafter. Festival passes without camping privileges cost €30 less. Sleeping in a tent under the open sky instead of a hotel room gives the complete festival feeling. (Safe boxes are available for valuable personal belongings).
Performing arts - Classical music
Apart from a renowned music scene, Hungary has a surprisingly rich theatre and art scene and, not surprisingly, Budapest is the epicenter of it. Season begins in mid-September and ends in June. Productions range from classic dramas and traditional operas to post-modern dance performances. The following venues can be particularly interesting for non-Hungarians.
Hungarian State Opera House, Magyar Állami Operaház, 1061 Andrássy út 22, metro 1 station Opera, tickets HUF 300-10,900. One of Europe's architecturally most breathtaking opera house's company performs traditional opera and ballet. The quality of its huge repertoire is not always up to international standards, but if you don't expect too much, you will spend a decent night here. Cheaper tickets offering reduced visibility are a good deal if you don't want to pay HUF 2500 for the official guided tour to the building. The company also performs at Theatre Thália, (Thália Színház 1065 Nagymező u. 22-24, metro 1, tram 4, tram 6 station/stop Oktogon, tickets HUF 2900-4900), while Theatre Erkel, the Opera's chamber theater is closed due to reconstruction.
Palace of Arts, Művészetek Palotája, 1095 Komor Marcell utca 1, tram 2 stop Millenniumi Kulturális Központ, tickets HUF 700-9,800, standing tickets for students are available for HUF 200 one hour before every show, (be sure that your student card is valid, otherwise you won't get in). This modern, power plant-looking building hides an excellent modern art museum, a festival theatre and the marvellous Béla Bartók National Concert Hall (Bartók Béla Nemzeti Hangversenyterem), which offer great concerts from classical, jazz and world music to Hungarian and international pop, special children programmes and the best opera performances in Central Europe. The annual Wagner festival in June is a must. Spectacles are held all around the year. Book your tickets at the Palace of the Arts home page without additional booking fee.
Theatre Madách, Madách Színház, 1073 Erzsébet körút 29-33, metro 2 station Blaha Lujza tér, tram 4, tram 6 stop Wesselényi utca, tickets HUF 500-8900. If you want to see the Hungarian version of blockbuster musicals like The Phantom of the Opera or Producers, this is your place. Madách is widely popular among musical fans, and some of their recent shows have been critically acclaimed, so book well in advance.
Budapest Operetta Theatre, Budapesti Operett Színház, 1065 Nagymezõ utca 19, metro 1, tram 4, tram 6 station/stop Oktogon, tickets HUF 950-15000. Grandmothers' eternal favourite, the Operetta Theatre performs old-fashioned operettas for the nostalgic hearted and tries to be Madách's main rival in musicals.
Trafó House of Contemporary Arts, Trafó Kortárs Művészetek Háza, 1094 Liliom utca 41, metro 3 station Ferenc körút, tram 4, tram 6 stop Üllői út, tickets HUF 1000-2500, 25% discount for student card holders. In a renovated transformer building, Budapest's most important contemporary cultural center presents Hungarian and international experimental dance, theatre and music performances. A disco hall in the cellar and a lively bar upstairs also serve your entertainment.
Millenáris, 1024 Fény utca 20-22, metro 2 station Széll Kálmán tér, tram 4, tram 6 stop Széna tér, tickets HUF 1000-6000. This huge cultural center has been built around former factory buildings. The complex includes a park, a small artificial lake, cafés, an interactive museum called Csodák Palotája (Palace of Miracles) and a theatre which hosts music, theatre and sometimes great contemporary opera performances. You could book your ticket at their home page, which is available in Hungarian and English
Merlin International Theatre, Merlin Nemzetközi Színház, 1052 Gerlóczy utca 4, metro 1/2/3 station Deák tér, tickets HUF 600-2000. Merlin, within stone-throwing distance of Váci street, Budapest touristy and commercial heart, is a hub for some Hungarian alternative companies and also for performances in English.
National Dance Theatre, Nemzeti Táncszínház, 1014 Budapest, Színház utca 1-3, bus 10, bus 16, stop Dísz tér, tickets HUF 1100-3500. The main dance theatre of Hungary hosts a wide range of local and international performances. Although not always revolutionary modern, it's always worth to check the program.
Experidance Company. This popular company performs Hungarian popular dances in modern conception.
MU Theatre, MU Színház, 1117 Kőrösy J. utca 17, tram 4 stop Fehérvári út, tickets HUF 1500, for student card holders HUF 1000. MU, one of the well-known Budapest dance theatres hosts contemporary dance performances.
Central European Dance Theater, Közép-Európa Táncszínház, 1071 Bethlen Gábor tér 3, metro 2 station Keleti Pályaudvar, tickets HUF 1200, for senior citizen HUF 700, for student card holders HUF 800. CEDT's company performs renowned contemporary dance theatre.
Theatre Szkéné, Szkéné Színház, 1111 Műegyetem rakpart 3., Budapest University of Technology and Economics (BME)'s theatre hall, bus 7, bus 73, stop Szent Gellért tér – during the construction of metro 4 station in Szent Gellért tér use temporary stairs next to the river for reaching the building. Szkéné hosts, among others, Béla Pintér and Company (Pintér Béla és Társulata, tickets HUF 1500), many alternative theater goers' favourite. Their 2006 autumn premier, "Korcsula" (Korčula – the name refers to a Croatian island), a Central European black commedy, is subtitled in English. Book your ticket by email.
Serves as a venue for the Danube Symphony Orchestra, the Danube Folk Ensemble and the Rajko Gypsy Orchestra and Folk Ensemble.
Budai Vigado (Hungarian Heritage House)
The HHH is the historical building also known as the "Vigadó" (Entertainment Hall) of Buda. The building is located in Fő utca (High Street), between Batthyány tér (Batthyány Square) and Clark Ádám tér (Adam Clark Circus).
The building was designed in Eclectic style by Aladár Árkay and Mór Kallina. It was constructed between 1898-1900. The relative simplicity of the façade is contrasted by the rich Art Nouveau ornamentation in the interior. The building was designed to serve the multiple cultural needs of the contemporary middle-class citizens of Buda. It was a cultural complex comprised of a theater, a library, a café and a restaurant.The most impressive parts of the interior are the hall with its columns and wide marble staircase, the ornamented lounge, and the adjacent auditorium.
Home to organ concerts by the famous organ player Miklós Teleki accomapnied by flutist, Eleonora Krusic and opera singer Kolos Kováts.
Cinema
In spite of increasing funding difficulties, quality cinema has remained alive in Budapest. For contemporary non-mainstream European and Hungarian titles turn to Budapest's excellent art house movie chain, Art mozi, most of their branches are provided with a café or pub and offer pleasant atmosphere to spend your evening. A few selected cinemas of this chain:
Uránia National Movie Theatre,(Uránia Nemzeti Filmszínház, Rákóczi út 21, metro 2 station Blaha Lujza tér, tickets HUF 890-990). Combines mainstream European artistic movies with new Hungarian films, the latter ones sporadically subtitled in English.
Cinema Puskin(Puskin Mozi, Kossuth Lajos utca 18, metro 2 station Astoria, metro 3 station Ferenciek tere, tickets HUF 800-1050). "Pushkin" is the most mainstream among the art house movie theatres in Budapest, an elegant, decorated multiplex offering quality, but generally easy-to-watch Hungarian and foreign films. Its café is recommended.
Cinema Művész (Művész Mozi, 1063 Teréz körút 30, metro 1, tram 4, tram 6 station/stop Oktogon, tickets HUF 920-1050) is probably the most popular "Art Mozi" theatre in Budapest. Many Hungarian movies are on show with English subtitles; ask for them at the desk.
Movie Museum Örökmozgó (Örökmozgó Filmmúzeum, 1073 Erzsébet krt. 39, tram 4, tram 6, stop Király utca). "Perpetual motion" (that's what the name means) is your best choice if you're in mood to see a movie from the times when Leonardo DiCaprio was a child. Most of the oldies speak their original language and are subtitled in Hungarian.
Mainstream cinemas mainly show subtitled (or dubbed) Hollywood films and Hungarian romantic movies. After the shopping center revolution in the late 90s, more than two thirds of the city's cinema screens are run by international chains and franchises. Two examples are:
Corvin (Corvin köz 1., metro 3 station Ferenc körút, tram 4, tram 6 stop Üllői út). One of the oldest, although completely modernised cinema in the city--gives multiplex feeling for those tired of malls. On Corvin's wall memorial tablets and reliefs are reminescent of the 1956 revolution's heavy fightings around the building; the memorial itself is worth a visit. Tickets HUF 1150, before 16.00 HUF 950, on Wednesday HUF 750.
Most centrally located mall cinemas are Palace Westend (mainstream) in Pest (in Westend City Center, Váci út 1-3, metro 3, tram 4, tram 6 station/stop Nyugati pályaudvar) and Palace Mammut in Buda (in Mammut Center, Lövőház utca 2-6, , metro 2 station Széll Kálmán tér, tram 4, tram 6 stop Széna tér); Palace MOM PARK in Buda, which is the "ORIGINAL LANGUAGE MOVIE" in Budapest, so you can watch all the foreign movies here with subtitles too.
Thermal baths
Budapest offers a truly exceptional density of thermal springs and its fame is still rising as a major European Spa location - so go "bathing". The baths are among last vestige of Turkish culture in Budapest; some baths indeed date back to Turkish times. However, Hungarians have modified and moulded this tradition into something of their own during the last four centuries.
Thermal baths contain several thermal pools. They are usually complemented with multiple steam baths (in later decades also denoted by the Finnish word 'sauna'), massage services and other therapies including drinking cures. Unlike in some Scandinavian or German baths, Budapest baths mostly require you to wear your bathing suit! Among foreigners, Russians seem to be most frequent visitors to Budapest's baths, followed by Italians and Americans.
In recent decades a tradition of night bath parties has evolved, often revolving around various branches of electronic music.
Traditional public baths
Traditional public baths used to have a slightly outdated but nowadays improving service and admission system and allow an authentic bathing experience with locals around you. At the cash desk, you sometimes have to select treatments in advance (often they are offered in distinct places of the building). Bathing time is not restricted, and, depending on the system, if you're finished earlier, part of your fee is repaid. Towels and sometimes bathrobe can be rented either at the entrance or inside. Changing clothes can be done either in a common area with lockers (gender segregated) or in cabins (kabinok) which may come in different size and is highly useful for families. While newer systems may be introduced, according to the proper ancient ritual you're handed a token with a number, which is also written on a chalkboard inside(!) the cabin door as a security code - you must remember cabin number. To access your cabin again, show your cabin and a token to attendant, and s/he'll open the door and check the number inside. Note that in swimming pools, swimming caps are sometimes obligatory (and often available for sale or rent).
Prices: The full entrance price to both the swimming pool and the man and woman thermal facilities is 3500 HUF, which also includes a cabin rental, where you can change clothes and a towel (bed sheets style). On weekdays this ticket is 4050 HUF Ticket and 30 minute massage can be reserved in advance.
If you rent a towel (resembling a bedsheet) or a bathrobe, you will need the original receipt ticket for getting back your deposit. You'll need to get your receipt ticket back from the attendants inside when you return your item, otherwise you forfeit your deposit. Unfortunately, the managers are quite unforgiving in this matter and won't believe you if you try to collect your deposit without your item or a receipt.
The massage therapists in this touristic place are not cheap. Prices: from 2500 HUF for Refreshing, 15 min. to 3800 HUF for Powder, 30 min. They also offer a very good Thai massage. 1h is 11500 HUF and 1.5h is 15500 HUF (march 2010)
Changing: Individual lockers, single-person cabins, and family cabins are available.
Indoors: Common area for men and women has only a 50m(?) swimming pool and a soaking pool with massage bubbles, both with 36 - 38°C water. Wearing swimming caps is technically obligatory, but not always enforced. There are separate Turkish-style thermal baths for men and women, offering several different areas: two soaking pools (one with 36°C, another with 38°C), the showers, the dry sauna and Turkish steam bath, and the cold pool (designed to scare the living daylights out of you after a happy warm soak - it is sure healthy).
Outdoors: A large open-air complex of pools (open only in summer time).
Special Note: For the separate male/female baths, if you are uncomfortable sitting in a giant tub of water with other naked people of the same sex, this will not be your scene. You will notice tourists unfamiliar with this environment are a bit taken aback when they first encounter this, and either leave immediately or simply adapt to local culture. The main area requires bathing suits or a little towel that hide the front part in the pools, though nudity is common in the changing area.
Széchenyi Spa

Pest, Állatkerti krt. 11

right next to the Zoo; metro: Széchenyi fürdő, M1 yellow line).

Indoor part open daily from 6AM to 7PM; outdoor 6AM-10PM in winter; summer-time hours may be different.

.

Built in 1909 in the present-day City Park, this is the largest spa in Europe, and probably the nicest one in Budapest. A vast bath complex amidst beautiful architecture, it contains 3 outdoor pools including a large lap pool, at least 3 sauna rooms, and several indoor pools at different temperatures.
Prices: 3,100 HUF entrance fee, includes rental of a locker (locked by an electronic wristband which also acts as your admission ticket) or 3,400 HUF entrance fee, includes rental of a changing cabin (locked by a key). 300 HUF refund for leaving within 2 hours. It is recommended not to store valuables in these lockers -- use the safe boxes. Signs warn they are not responsible for losses except for safe boxes.
Safe boxes are available for 500 HUF (well worth the peace of mind). The boxes are approximately 5" high x 12" wide x 18" deep (13cm x 30cm x 46cm). The attendant will ask you to write a "code" word on a piece of paper; this paper is placed in the box along with your valuables, and you will be given a physical key. When retrieving your items, the attendant will ask you for the "code" and check it against the paper in the box. These safe boxes can be used if the larger locker or changing room is not required.
Its recommended that you bring your own towel or bathrobe, as the towels available for rent are more like bedsheets.
Outdoors: Two hot soaking pools (30 degrees C and 38 degrees C) and one swimming pool (26-28 degrees C) are all open-air (even in winter), and form the center of the baths. All facilities are shared by men and women (except shower and toilets). There's a swimming tube (a whirling corridor): round- (outdoors) or rectangle-shaped (indoors) pool with artificial flow, a feature difficult to find elsewhere. Another specialty is a tradition to play chess while sitting in the water (chess sets are not provided so you'll either have to pick up your own waterproof set or learn enough Hungarian to challenge a local to a match) - even in winter. One or two cafes/juice bars are available directly from the swimming deck, near the cabins, year-round.
Indoors: Several saunas, one steam bath. Cold-water pool, hot tubs, aqua-gym pool with weights. Northern part of indoors baths is more modern and clean.
Modern baths
There are also very modern baths (like Danubius Grand Thermal Hotel) which are usually called spas, although their central component are thermal pool and multitude of steam baths/saunas, which is not always typical for in the rest of the world.
Danubius Grand Hotel/Thermal Hotel Margitsziget

,

until 9:30PM

.

. High-level and modern baths and spa also offers a great choice of medical treatment. Admission fee (5,700 HUF weekdays, 7,000 HUF weekends) doesn't limit your time inside, and gives access to all spa facilities including a great gym (remember to bring your fitness suit). Solarium and medical treatments should be paid separately, remember before entering the changing rooms (1,300 HUF for 10 minutes).
What's inside?: Two body-temperature soaking pools and a cold-water corridor with stones on the floor; one swimming pool; separate steam baths; common sauna. There's a drinking fountain with mineral water extremely rich in minerals--find on a way from baths to the gym.
Changing: Towels are handed at reception--without fee or deposit. Also, there seems to be bathrobes available for rent--ask at the reception. For changing clothes, only lockers are available, without attendant--you have a key. There's no cabins (as families typically live in the same hotel). Every shower cabin have a curtain, and there's some liquid soap available.
Visitors mix: Almost no locals; in New Year season (and 1-9 of May?) about 80% are Russians who are also residents of the hotel.
Corinthia Grand Hotel Royal Spa

A symbol of history, culture, architecture and the tradition of hospitality opens its doors in all its original splendour. The Royal Spa has been beautifully restored to its original splendour and now offers the latest state-of-the-art spa facilities and treatments. The Royal Spa is one of the most expensive in Budapest costing 10,000 HUF for a day pass. It is a spectacle of opulence and luxury in the amazing art deco setting. Included in the price is bath robe, towels, lockers, hydromassage, fruit juices and water. Although expensive it is a truly unforgettable experience .
Others
Király Baths. Buda, Fő utca 84 (metro: Batthyány tér). Old, authentic and pretty small; personnel speak limited English. The baths used to alternate between male- and female-only days, but now every day is mixed for both men and women. Király Baths have been known for some years as a meeting place for gay men. Following an expose on Hungarian TV, the management introduced a rule that swimwear has to be worn in the baths. Some gay activity may be visible, but you can enjoy this unique place without any problem if you are not gay.
The baths have a main pool with adjoining very small pools, steam room and dry sauna. The emphasis is more on relaxing and enjoying the waters rather than swimming. It's possible to get a massage here as well. Ask the attendants in the changing room or massage room area.
The Palatinus Outdoor Baths, on the Margaret Island (Margitsziget), have three pools filled with therapeutic water--and a total of 11 pools (totaling 17.5 acres). In front of the baths is a beautiful rose garden, and nearby, an open-air stage where opera and ballet performances are held, plus an open-air cinema used during the summer.
Rudas, in Buda. This is where to go if you are looking for an authentic Turkish feel with its 16th century dome encrusted of colored glass. It is quite popular amongst locals. While it was a men-only bath, it now allows access to men and women. It is much more authentic than Gellert or Szechenyi. Like Király, the baths have a main pool(36C) with adjoining small pools(12C, 28C, 30C, 33C and 42C), steam room and dry sauna. Rudas has more small pools than Király and seems in better condition (renovated in 2007). There are two parts of the bath - the Turkish relaxation bath and a swimming hall. Both charge an entrance fee (as of February 2008): 2.200 HUF for the Turkish bath, 1.500 HUF for the swimming hall. Both can be booked for 3.300. Bring a towel and your swimwear and you are set for the swimming hall (but you will look like a tourist in the bath section with a swimwear - they will provide you with a very small towel). There is also a very nice rest room, where you can chill outside the water. The staff has got very limited English.
Massages are offered as oil or soap&water versions. 15 min. cost 2,500 HUF, 30 min. 3,500. Be aware that this type of massage has nothing to do with the relaxing Asian variants. Parts of Schwarzenegger movie Red Heat was shot here.
Dagály is a large complex of baths and pools located just north of Árpad Híd Metro station on the Pest side and directly on the Danube. There is an outdoor 50m lap pool open year round and a covered-in-winter 25m lap pool. There are 2 large outdoor hot baths. One heated to 33C and the other to 36C. In summer, several huge pools are also available and plenty of open grass and trees for sunbathing or shade. The architecture is classic modern. Admission is ~1,300 HUF. One changes clothes in a small cubicle before passing through to the large unisex locker room where attendants lock your clothes in a locker. Tip HUF 100 on your way out. Be sure to bring some bath sandals to wear to the pool edge. The floors are not always clean. One sees lots of families here, elderly people and fitness swimmers. Staff do not speak English, but is helpful and patient.
Active Leisure
If you live a sporty life you should not have a break during your holiday. Wide variety of health clubs, yoga & pilates clubs, riding schools, swimming pools and squash and tennis courts give sporting opportunity. On Margaret Island you will find joggers, and swimming opportunity in the Hajós Olympic Pool. Practicing the mentioned sports is cheap in Budapest.
Caving
Note that caving in Budapest ranges from well lit and renovated Szemlőhegyi cave, where you can even go to parts of the cave in a wheelchair, to some of the more extreme tours in the Pál-völgyi–Mátyás-hegyi cave system, where you have to squeeze through several meters long passages with no room to spare.
There is a joint ticket for the standard tourist areas of the Pál-völgyi and the Szemlőhegyi caves. The caves are walking distance to each other - ask for a map from either cave ticket office. These areas are easily accessible and well-lit making them better for the slightly claustrophobic among us, though to enjoy the true beauty of the caves you must go on the longer more strenuous tours. Due to the times that the tours start, you're better of starting at Szemlőhegyi then taking the 15 minute walk to Pál-völgyi. This way it is possible to not have a very long wait between your caves, and the outdoor area at Pál-völgyi is far more pleasant in nice weather than the Szemlőhegyi cave museum.
The Pál-völgyi–Mátyás-hegyi cave system is recommended for the adventurous (and non-claustrophobic) who wants a great taste of "proper caving" instead of the more "tourist friendly" alternatives. The tours lasts between 2.5-3 hours and much of the time is spent crawling or climbing, so some degree of physical shape is needed. The guided tour includes a helmet, headlamp and overall so bring good shoes! Guides are very professional. English guided tours are usually on Mondays, Wednesdays and Fridays late in the afternoon, but can be pre-booked by groups at other days as well. For booking you need to be with at least 4 people.
Please do not litter, write your name on the cave wall or damage the cave in any other way! Part of the experience is the feeling of being in unspoiled nature.
Learn
There are a number of universities and other tertiary institutions in Budapests. Many of them offer degrees or courses in English, German, or French. Particularly popular, even though not cheap, are the medical university courses offered in German and English.
Central European University An small but excellent american private university mainly funded by the Soros foundation (associated with Soros György - George Soros, "The Man Who Broke the Bank of England"), offers an extensive graduate program in a wide variety of courses in political, economical and environmental fields.
Eötvös Loránd University. The flagship university in Hungary, founded in 1635, offering bachelor, master and PhD level degrees in certain fields in English.
Liszt Ferenc Academy of Music. World-renowned music academy in the heart of the city.
Corvinus University of Budapest, formerly the University of Economical Sciences, colloquially known as 'Közgáz': Offers Bachelor and Master courses in many languages.
Budapest University of Technology and Economics, B.Sc. and M.Sc. level engineering courses available for foreigners in English, French and German language at the International Education Center of the university.
Semmelweis University the flagship institution in medical education and research, offering courses in English and German. International students make up 24 percent of the total student population.
International Business School (Nemzetközi Üzleti Főiskola, IBS-NÜF). An institute of higher education offering numerous undergrad and some postgraduate programs, mostly providing Oxford Brookes University and Hungarian Degrees in English and/or Hungarian languages.
Debrecen Language School offers Hungarian language classes year round at all levels in Budapest, Debrecen and Sopron.
Work
Teaching English is a popular profession for travellers and people moving to Budapest.
Generally speaking, finding a full-time job is fairly difficult unless you speak Hungarian. You should also be prepared that Western standards at job interviews regarding personal life and diversity issues do not always apply. Do not be surprised if you are asked about your smoking habits. Also, companies are not always prepared to fully understand and accept people from diverse backgrounds. You should be prepared that most places wont hire you until you speak at least a little Hungarian. Restaurants with a specific countries cuisine (such as Italian restaurants and pizzerias) tend to hire people from that country for making the food more authentic.
Buy
Paprika and more, Great Market Hall
A Chocolate shop in Budapest
Most of the visitors from far away end up shopping in Pest in the middle of the city: Váci utca and nearby. It is historically the most expensive part of the city. You'll find Hungarian linens and lace, pottery, and other items, in souvenir shops.
You definitely want to visit the Great Market Hall (Nagy Vásárcsarnok) at Fővám tér the recently renovated markethall with essential atmosphere (it's at the south end of Vaci). Prices for the same items vary a lot between sellers and aren't set in stone so be sure to compare and bargain.
Non-speciality shopping
Also, chain stores can be found along the Váci utca (C&A, H&M, Clinique, Estee Lauder, New Yorker, etc).
The shopping malls locally known as "Plazas" are usually good for buying clothes, but prices may vary wildly even in shops next to each other. For electronics, the cheap supermarkets like Electro World and Media Markt are good targets, but the quality is on par with the prices. Due to the low cost of labour, a tradition in repairing mobile phones and other appliances exists, and buying second hand electronics is normal. This service is usually offered in smaller private shops.
Absinthe is available for purchase at common liquor stores, a must-have purchase for the European traveler. Many brands available in the Market Hall and liquor stores are of poor quality (or not even "real" Absinthe).
For young local designers' items there are plenty of shops around the city. Big range of design souvenirs can be found in Fregolishop next to Kalvin square or Printa between Deak square and Astoria. On fliers of 'Stylewalker' you can find listed all the local design stores, best hair dressers cafés of Budapest's 5th district.
Eat
Hungarian food deserves to be (and often is) mentioned among the country's main sites. As in other cultures, the Hungarian approach to food combines pride in their own traditions with a readiness to accept outside influences. The result is a vibrant restaurant scene where an Asian-Hungarian fusion restaurant may well be of genuine interest. Luckily, prices are significantly below western Europe's with around 4 EUR for a budget lunch, and around 8-14 EUR for a nice evening meal in a mid-range restaurant, depending on place and appetite. Above 20 EUR per person is definitely considered expensive, but there are enough lavish places above this price range for those looking for something special.
Local specialities often revolve around meat (pork, beef, veal, or poultry), often involve liberal use of paprika, however not necessary of the hot kind. Note that - due to a historical translation error - "goulash soup" is indeed a soup, not the "goulash" that visitors may be familiar with from home which is known as "pörkölt".
Major specialities include (google image search can aid your imagination):
gulyás(leves) usually translated as 'goulash soup' - a filling meat soup (usually beef) with potatoes and paprika, among other ingredients. Served as main dish or as a (heavy) starter. The name refers to the Hungarian version of a cowboy taking care of a 'gulya' (cattleherd).
paprikás veal or chicken cooked in delicious creamy paprika sauce (not spicy)
pörkölt a stew with of sautéed onions and - paprika. Similar to what is served as 'goulash' abroad.
halászlé - fishermen's soup served differently depending on region
töltött káposzta - stuffed cabbage, the cooked cabbage leafs are filled with meat and in a paprika sauce, served with sour cream (similar to crème fraîche or crème acidulée)
Balaton pike-perch (fogas)
gyümölcsleves - fruit soup - cold, creamy and sweet, consumed as a starter.
From the desserts, you may not want to miss
Somlói galuska, a poem on biscuit dough, cream and chocolate sauce, invented by Károly Gollerits at Gundel
Gundel palacsinta - Gundel pancake (crepe) - with a filling prepared with rum, raisin, walnuts, and lemon zest, served with a chocolate sauce, and the careful reader may guess its birthplace.
There is also a great variety of wonderful pastries/cakes (Torta), some of which you will recognize if you are familiar with Viennese pastries. You may want to try Dobos torta (Dobos cake, named after József Dobos), and Rigó Jancsi a light chocolate-cream cake.
Coffeehouses
Coffeehouses (kávéház) are a traditional Budapest institution, somewhat resembling Viennese lifestyle. A visit to one should be on every traveller's agenda, these are places which are great for spending some time enjoying a cup of coffee and a delicious cake. Some of them (especially in the higher price range) offer meals as well.
With dozens of places in the city, the best known landmark coffeehouses (and among the priciest) are:
Gerbeaud (Vörösmarty tér 7-9)
Művész Kávéház (Andrássy út 29)
New York Kávéház (Erzsébet krt. 9-11)
In recent years there has also developed a number of artisan "Third Wave" barista coffee shops offering a more modern take on coffee.
Espresso Embassy
Fekete
Madal Cafe
My Little Melbourne
Tamp and Pull
Restaurants
Hungarian cuisine and restaurant experiences are happily remembered by visitors, even if the Hungarian diet may seem rather meat-based to many western visitors. The city has large variety of great places to eat at prices quite reasonable for western-Europeans. Like in some other cities, a number of restaurants see tourists as scapegoats. It is a good idea to avoid restaurants in the heart of the most touristic areas like Váci utca, especially if all customers seem foreigners - here you'll more likely than not be served mediocre food with a high bill padded with number of bizarre charges. In some restaurants anything you don't explicitly ask for, but appears on your table, is likely to be charged for. Don't take restaurant tips from suspicious individuals on the streets, ask your local friends instead, and check online reviews first.
A wide variety of decent food for not reasonable prices can be found at the lively Raday utca, venue of a number of cultural events, near Kálvin tér. But simply strolling the more central areas - e.g. near the Great Ringroad (Nagykörút), or the Pozsonyi út - will be enough to bump into nice places to test local cooking skill (though not necessarily with a menu available in English). Top-notch quality food (1st category restaurants) charge a wide range of prices (from starters around 1000 HUF, main courses around 3,000-10,000 HUF, and menus from 5,000 HUF). Perhaps the most reputed among top restaurants is the Gundel near Városliget - check the prices before you decide to go, but it offers a good value Sunday brunch for some 5000 HUF.
Walking along the Danube on the Pest side, you see a lot of restaurant and bar boats. Most of them serve traditional Hungarian and international dishes, some of them are function more as bars. Thanks to the beautiful panorama across the Danube and the castle, these places provide an unforgettable experience.
Chains
Only cross-district chains are listed here; see district articles for individual restaurants.
Wasabi. Excellent Japanese and Korean food. Lunch 3790 HUF (11AM-5PM weekdays).

Pest. Podmaniczky ut 21 (close to Nyugati station) 11:30AM-11PM weekdays.
Buda. Szépvölgyi ut 15 (train station Szépvölgyi ut) 11AM-11PM.
Trófea Grill. The best among all-you-can-eat (buffet) and all the alcohol you can drink. Best to book a table in advance. Has 4 locations:
near Nyugati Train Station (Visegrádi u. 50A)
at the final station of Metro line 1 (Erzsébet királyné út 5)
downtown by Margaret Bridge (Margit körút 2)
in the XIth district (Hauszmann Alajos / Szerémi út).(flagship outlet)
Pest (5 locations), Buda (3 locations)

.

(See district article Pest for details) Mid to high-priced restaurant chain that offers Hungarian classics with other Italian and European cuisine. Very fashionable interiors and popular with the well-paid white collar crowd. Reservations are recommended during traditional peak times. When eating here, always make sure that you won't be slapped on an extra 100% service charge. Read the menu before entering the restaurant carefully and insist on talking to someone who speaks english.
Vegetarian/Vegan
Govinda Great vegan/vegetarian restaurant in Budapest. You can choose from different menus everyday or just order separate dishes; moderately priced.
Edeni Vegan Cafeteria style restaurant, large portions, relatively cheap. Food may vary depending on day, time, and dishes chosen. Tofu goulash recommended. Staff is very helpful at explaining the dishes so ask what they are if you don't know. Note: CASH ONLY. There is an ATM at the bank across the street.
Iskola Utca 31, 1011 -- Located in Buda, 1 block from Batthány tér metro station.
Dinner Cruises
Sightseeing ships on the Danube that serve meals are quite popular with tourists. It's a way to enjoy a view of the city from the Danube while enjoying a meal of authentic Hungarian cuisine.
Hungaria Koncert Ltd. offers several Danube cruises, among others the 19 o'clock Dinner and Cruise with live music, where dinner guests are entertained by 3 members of the award winning Rajko Folk Orchestra.
This cruise is available everyday. The meeting point is at the Danube Palace (1051 Zrinyi Street 5.) at 18:30.
Grocery shopping
Needless to say, if you want to take home some Hungarian paprika, Pick szalámi, or Tokalyi wine, grocery shops are naturally cheaper than specialised souvenir kiosks. In the central areas, you will find smaller grocery shops such as the Hungarian chains GRoby, CBA, (sometimes Rotschild's) as well as the usual European suspects Spar, Kaiser's, Plus, and Tesco Express.
Further from the centre, you can find foreign-owned hypermarkets like Auchan, Tesco and Cora with the usual range of goods.
As a good tourist, you should buy local products.
Kosher
Hanna's Kosher Kitchen Features classic Hungarian food, but Kosher. VII., Dob utca 35. Tel.:+361 342-1072.
Kinor David VII. Dohany utca (next to the big Dohány Temple) Tel. (+361) 413-7304 or 5.
Salamon glatt kosher restaurant (Next to King's Hotel)1072 Budapest, VII. Nagydiófa u. 27 Tel: (++36-1) 413-1487, 413-1488 Cell: (++36-30) 743-6938, (++36-20) 966-6160.
Rotschild Supermarkets (located throughout the downtown) offer Kosher goods too.
Others
Halal food is not traditional for Budapest but a number of places are available recently. Check this Muslim site for Meat shops (húsboltok) and restaurants (Éttermek).
A version of Döner Kebab (as known e.g. in Germany) is sold under the Greek name Gyros (often by Turks!). Translated from Turkish Döner, Gyros means "rotate" or "spintop" in Greek - a reference to the meat being rotated on a stake. One good moderately priced Turkish Halal place is Szeráj on Szt. István körút opposite to the theatre building of "Vígszínház", between Nyugati tér Margaret Bridge.
Drink
Budapest offers plenty of places to drink, from cool and ultra-hip to rowdy and down-market. If you are in the mood for a particularly Hungarian experience, visit a so-called borozó (wine pub). These offer cheap yet tasty Hungarian wine on tap at outright hilariously low prices if you manage to find one outside the tourist circuit.
Hungary is famous for its wines produced at Balaton area and Eger. Among red wines the best are Kékfrankos, Egri Bikavér "Bulls Blood" and white wines the Szürkebarát and Chardonnay are popular. You should try not to miss out on the Hungarian spirit, palinka, made from fruits such as, plum, apricot, cherry or williams pears.
Unique Hungarian soft drinks to try are Traubi Szoda (a white grape soda) and Márka (a sour cherry soda).
Sleep
Budapest offers a wide range of accommodation in all price classes from the hostels which start at €7 per night, to small cheap pension, to the luxurious 5-star hotels, although the costs of staying here are notably higher than elsewhere in Hungary.
Arriving trains are often met by touts offering free rides to hostels, as well as little old grannies offering their apartments for rent. Try to figure out exactly where you're going before you choose - or, better yet, visit any of the many travel agencies to browse the many options in a more comfortable environment.
The most expensive digs are on or near Castle Hill,dozens of reliable backpacker hostels are mostly across the river in Pest. However, Buda has better air quality due to the closeness of the hills and the forests lying to the west from the city.
Apartments may be a cheap alternative for those making extended stays. Another great way to stay in Budapest is to rent an apartment directly from a local. Airbnb, Homieplaces or Wimdu offers a wide variety of apartments which could be rented directly from locals.
Contact
Phone
Calling outside Budapest press city code (Budapest is 36-1) or mobile (06 -30/ 70 /20 ) Calling international press 00 + country code + area code + local number (Hungary country code is 36).
Mobile phones work in the metro, even in tunnels between stations.
Some phone booths take coins (including € coins), but others only take pre-paid cards. The posted number for credit card calls will lead to unexpectedly high charges ($1 for a one minute call to the US) and is to be avoided. Unfortunately, you cannot trust T-mobile to charge reasonable prices on their pay phones. You can make international calls from callshops and internet cafés at more reasonable prices.
Internet
WiFi
Budapest is one of the most WiFi enabled cities in Europe. You can find hundreds of free WiFi hotspots all over the city - in cafes, restaurants, shopping malls and hotels, or even parks or busy streets.
In VII district (Erzsébetváros), which is surrounded by Károly körút, Király utca and Rákóczi út, free WiFi is provided by the government all over the district - in the cafes, shops, in the streets.
Wifi Networks
However, there are still some hotels and restaurants using offering paid WiFi usage, including the following:
Internet Cafes
There are many internet cafes throughout the city. Prices average 200 HUF/hour.
Stay safe
Crime
Hungary in general is a very safe country. According to the 2012 study of the United Nations Office on Drugs and Crime, Hungary had an intentional homicide rate of only 1.3 per 100,000 inhabitants. This is lower than the European average intentional homicide rate of 3.5, and also lower than the North American average intentional homicide rate of 3.9 per 100,000 inhabitants.
As a visitor to any other big city, having your pockets picked is the most common crime against tourists. The rate of picked pockets is relatively low by Western European and U.S. standards, and you're unlikely to have any problem if you follow some basic rules you wouldn't forget in Paris, Brussels or Vienna. The most important rules are that you never wear a backpack or purse on your back in public transportation or other places with a lot of people, and make sure that you have your wallet in one of your front pockets.
Hungarian policemen rarely speak English. Tourists have no reason to be afraid of them unless breaking the law.
During the peak tourist season, police patrolling major tourist areas are accompanied by bilingual or multi-lingual students who assist with problems or complaints. Police have also opened a 24/7 TourInform office in one of Budapest's busiest areas. It is located at Suto Street 2, District V, and they are able to receive complaints and render assistance in English and German.
Luckily, Budapest has no off-limit zones, particularly not in the touristy areas or nearby. As a traveller, you should take only normal precautions: don't show off your money and don't wear flashy jewellery. Magyars tend to be friendly with foreigners; racism or xenophobia against tourists is practically unknown. Violent crimes are rare, and the main concern for locals is to protect their home against break-ins rather than worry about having their purse robbed.
By night
Mostly there's no reason to have concerns about Budapest by night. In practice, the whole city, including all the touristy areas, Pest within the inner ring road (the line of Szent István körút–Teréz körút–Erzsébet körút–József körút–Ferenc körút, popularly known as Nagykörút), and Buda are safe even before dawn. Most locals avoid walking alone by night in outer zones of districts 8th and 9th in Pest, as these are shady and relatively dangerous areas. Areas in 8th district behind Népszinház utca - József körút can be risky, even if the district is CCTV monitored by the police. If you don't have special thing to do there, try not to have a walk at night at Lujza, Dankó, Magdolna Streets and their surroundings: also, it's not a very attractive area.
Some big panel areas outskirts of the city (parts of Újpest and Kőbánya, residential areas unknown by tourists) also not the best places to have a walk without knowing where to go. Area of Keleti pályaudvar is also not very friendly, but usually nothing happens. Avoid homeless people asking for money or selling something in the big underpasses. The subway at Nyugati tér collects different types of people; it is generally not risky because of heavy traffic day and night, but try not to look very "lost" there.
Beautiful during the day, bigger public parks like Városliget, are better avoided at night. Don't take a healthy walk at Népliget after dark. The famous 'chill-out' place at Római part (3th district) can be deserted especially after 1AM and in the winter season, although it's usually safe. Don't go to the dark paths alone around Citadella at night.
Night buses and the tram no.6 passing through the city center can be very crowded at peak socialising times on Friday and Saturday nights. You may come across aggressive drunk youngsters on the vehicles or at the stops. Keep a low profile or avoid the public transportation system on weekend nights. Major night lines are now guarded by security staff.
Tourist traps
Like in several cities of the world, in Budapest the major scams for the inexperienced tourist are taxis and restaurants. Much of the following would apply to a number of touristic cities in Europe.
Less than a decade ago, Taxis used to be a traveler's nightmare, mainly for those arriving from or going to the airport. Luckily the situation is getting better: Főtaxi - contracted partner of the airport - is so far reported to be reliable and works according to advertised prices; for details read the Airport transfer chapter. Főtaxi has a stand outside the terminal building, enjoying the exclusive right to wait there, though other companies can come to pick up passengers if called by phone. Sometimes scam taxi drivers will still solicit services inside the terminal to take you for a ride with a very hungry meter. (Főtaxi replaced Zóna Taxi as contractor in 2010, hence some information on the internet may still name Zóna Taxi as airport taxi).
Alternatives to Főtaxi include to call another trusted cab (saving €5-10), or to use the Airport Minibus service. Airport Minibus has a booth inside the terminal and they will allocate you to a minibus with several other travellers who are going to the same area of town. Depending on how lucky you are, yours may be the first destination or the last. However, it is only cheaper than a taxi if you are travelling alone. If you travel the from the city to the airport, pre-order your taxi on the chosen company's phone number or call for the Airport Minibus.
Unfortunately, the situation around railway and bus stations is still not regulated. The worst is probably Keleti Pályaudvar: never trust drivers hanging around the arrival side; rather, order a taxi by phone (Some cars display their company's number). If that's not possible, take only taxis with a logo of the bigger companies, and with a proper sign on the roof and taxi licence plate. As a general rule, make sure the taximeter is on (and not set to the special "extortionate rate for unwary tourists") or agree the price with the driver beforehand. Many cases have been reported in which taxi drivers have extorted hundreds of Euros from unwary visitors. Smaller crimes include being given change in worthless, obsolete Romanian or other currency, which is not instantly recognizable by tourists as non-Hungarian currency. Other drivers take a longer route, which means a higher price, if you don't have an agreed price. If you have an agreed price, you can be sure to arrive to your destination in the shortest route possible. A typical taxi drive within the central zones should be in the range of 1000-3000 HUF (ca. 3-10 EUR) as of mid 2012.
Similar abuses have also happened in restaurants and bars, almost all of them in the vicinity of Váci utca in the touristy heart of Pest. You should avoid the eateries and bars of the zone. However, these are not typical, the majority of restaurants and pubs in Budapest are reliable. In Hungary it's compulsory to put the menu card outside the entrance; if it's not the case, don't enter. A good strategy is to eat and drink where locals do.
Don't take any tip on the streets, especially if the person is apparently a gift from heaven and is being very, very nice to you.
Don't befriend the girls hanging around Váci utca, and never accept any invitation for a drink from them: you can be sure that they will lead you to fake Champagne, but you will be left only with the bill, and it's unlikely that a small conversation with them will be worth the hundreds of euros. You'll find the same sort of girls in erotic and topless bars; avoid them unless you're ready to pay your monthly salary for a glass of wine. Currently the standard trick is to produce a menu with small print at the bottom stating that the first drink costs HUF 15,000 and consumption is compulsory. This modified menu might be produced only when the bill is presented. Most of the erotic bars in Budapest are tourist traps. As of December 2009, this scam is still happening on a daily basis.
A common scam now (06/2008) is for attractive women to walk up to men and ask for directions to a particular bar. If you respond "I don't know", they will ask you if you have a map and say "let's go together" they commonly tell you a story such as "I just got in from Bratislava and am just looking for a good place to get a drink..."
The most popular scam nvolves a blond girl and a shorter girl with dark hair. They always act together and ask for a cigarette or the time. Next, they invite single men for a drink, in a bar at Váci utca only accessible by an elevator from the street. Once there, each drink costs around €50, but you only find that out at the end when you receive the €500 bill. So never go to the elevator bar (Városközpont) at Váci utca.
Money conversion: Like in other places, even if a restaurant or bar accepts euros, it is better to have forints since their conversion rate is usually way worse than the rate at exchange offices. It is better to avoid exchange offices inside airports and railway stations, those in the center of the city offer a much better exchange rate.
If you see people gambling on the streets, usually in popular tourists' destinations like Buda Castle, stay away! The modus operandi usually involves a guy playing the classic game of "hiding the ball". This involves covering the ball (or small trinket) with either a bottle cap or a match box and swirling it around with two other bottle caps asking people to guess the position of the ball. The game is set in a way that you can easily see the ball's position. This is done to lure the unsuspecting person into placing a wager. There are usually two main players and, between them, they will lose and win money back and forth to give the appearance that it is a fair game: do not be tricked! They are from the same gang. Once you get greedy and get lured in, you will surely lose your money! The person in control of the bottle caps will remove the ball from their position through sleight of hand and you will never see your money back. Besides the two or three other players involved, there are usually at least two lookouts: one on each side of 'stage'.
Money
Currently used coins: 5 HUF, 10 HUF, 20 HUF, 50 HUF, 100 HUF, 200 HUF
Currently used banknotes: 500 HUF, 1,000 HUF, 2,000 HUF, 5,000 HUF, 10,000 HUF, 20,000 HUF
Be sure when receiving change that all 1,000 HUF notes contain a vertical silver strip. Older notes without the strip are no longer valid. 200 HUF banknotes are also no longer valid, look out for these too!
Also, when receiving change from a taxi journey, make sure that the money is actually Hungarian. Some taxi drivers have been known to give unsuspecting passengers obsolete Romanian banknotes (lei).
Important phone numbers
Stay healthy
Ambulance: 104
Central Emergency: 112
Get out
Eger - small and charming town
Esztergom - Site of the biggest basilica (church) in Central Europe.
Gödöllő (30km east) - A town full of parks, and home to Grassalkovich Kastély (Grassalkovich Palace), formerly a Royal Palace. This palace was the occasional residence of Sisi, Habsbourg Empress Elizabeth. The great royal park became specail with its old trees which could see Sisi in the 18. century.
Szentendre (19km north) - Home of the Hungarian Open-Air Museum, a huge site with many ancient buildings brought from all parts of the country, including barns, outbuildings, and even churches.
Vác - (32km north) Baroque style main square, Cathedral, Triumphal Arch, mummies of the Dominican church (Memento Mori).
Visegrád - Famous for its former royal palace partially rebuilt in Renaissance style, medieval residential tower, and impressive citadel.
More travel resources
itravelnet.com – Travel directory.
ATB | Budapest, airport, hotel, apartment PRIVATE transfer and shuttle
ATB Airport Transfer Budapest service is a PRIVATE airport transfer company based and developed in Budapest. We are specialized in meet and greet and door-to-door transfer services from Budapest Airport, Budapest Cruise Port, Budapest train stations to Budapest City Centre (hotels and private address), and to any other destination of your choice. We guarantee our prices are the most competitive on the market, especially compared to the quality of the transportation service. The transportation prices are fixed and all taxes are included. The cars are all clean, comfortable and in excellent conditions. The service is private, punctual and reliable. Our professional drivers will help make your journey from and to the airport a pleasant experience. Our drivers will monitor your flight for delays. If your flight is delayed your reservation will be automatically updated and the driver will arrive at the meeting point at the actual arrival time of your flight.
Secure Online Transportation Booking
Competitive and Fixed Price
Free monitor of delayed flights / trains
Experienced and helpful drivers
Clean and comfortable cars
You can pay directly to the driver
Friendly staff
Meet and greet service at airports, ports, stations
Reduce stress, no queues and no haggling at the airport
Budapest Private Transfers ( To and from all hotels and districts. )
Countryside Transfers ( To all locations in Hungary. )
Balaton Transfers ( Siofok, Zamardi, Balatonfured .. )
Festival Transfers ( Balaton Sound, Ozora, Sziget .. )
Transfers to other Countries ( Vienna, Kosice, Zagreb ..)
Our services are available 7 days a week, 24 hours a day
Private car and bus transfers (no waiting at the airport)
Sightseeing Tours, Spa Transfers